American Trade Finance is an international commercial lender, specializing in emerging markets
As part of our loan program, we offer commercial financing to purchasers of US-made goods. Recently, we also introduced the concept of Expedited Loans. With this innovation, a purchaser can access finance of up $1 million in as little as just 30 days. In addition, American Trade Finance can provide Accounts Receivable Insurance to help you grow your business at home and abroad.
Regardless of the transaction, our solutions reduce the risk to your business to as close to zero as we can.
Our team has a well-established, can-do reputation as partners in growth to over 80 global brands. Our strength? A depth of experience that's particularly unique in the emerging market space.
At American Trade Finance, we're able to assist in all stages of your sales cycle. Our solutions include:
Financing for international buyers of US manufactured goods and services
Expedited Loans of up to $1 million, with turnaround times of as little as just 30 days
Accounts Receivable Insurance to cover your domestic and international sales
Our short-term Accounts Receivable Insurance – also known as Trade Credit Insurance – is specifically designed for US businesses. It provides payment protection for domestic and foreign receivable balances (up to 95% of their total value). This allows your business to expand into new international markets, while staying protected from the unique risks associated with exporting. Make accurate growth decisions. Trade with confidence. Find those new opportunities.
We are also direct lenders, and offer attractive financing terms to international customers of US-made goods and services – with zero risk to the exporter. In addition, our Expedited Loans are a gamechanger, and set an industry benchmark for speed and efficiency.
Whatever the challenges of global trade – and we've seen significant ones over the years – we believe there is always potential for growth.
Growth is our guiding principle: for clients, for economies, for societies. We're here to make it happen. There is a sense of the frontier spirit at American Trade Finance; a commitment to providing flexible, efficient financing solutions with the minimum of red tape.
While our head office is in Colchester, Connecticut, our geographic horizon is global – with a specialist focus on emerging markets. Stretching doesn't scare us. Over the decades, we've helped our clients navigate complexity, expanding the export books of both larger brands and smaller ones.
WINNER
Sub-Saharan Africa
'Deal of the Year'
2022
Where we've done deals
Where we are located
Where we've done deals
Atrafin has helped over 80 clients in nearly 30 countries.
Where we are located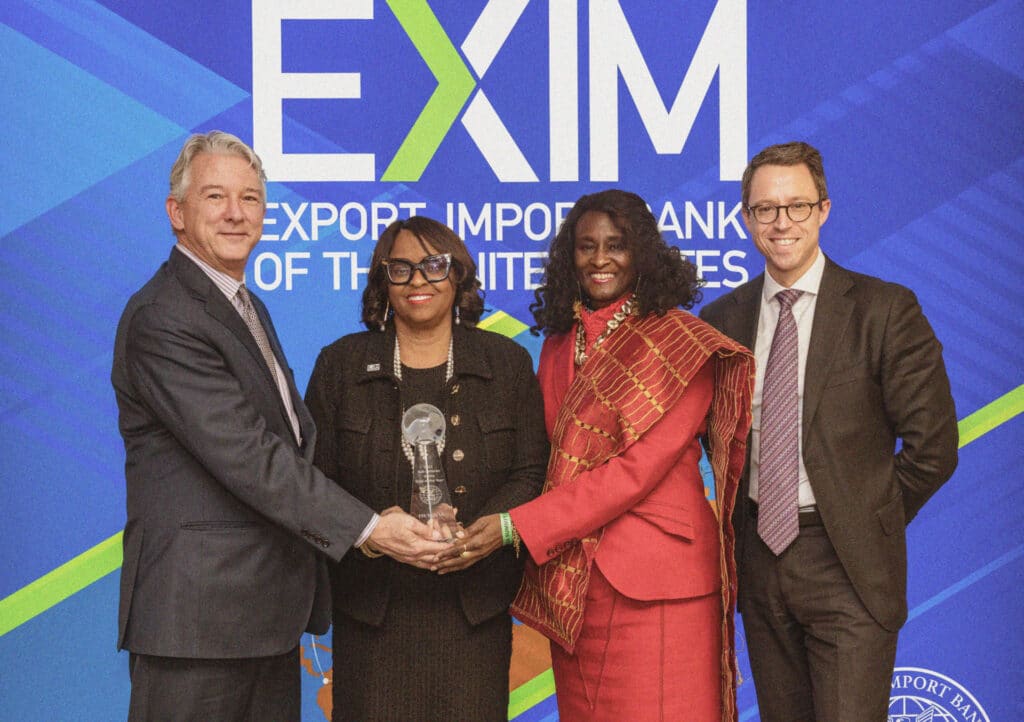 American Trade Finance named in 'Deal of the Year' award
Together with ESS Tech, Inc., and Sapele Power Plc, American Trade Finance was named a recipient in the 2022 Export-Import Bank of the United States (EXIM) sub-Saharan Africa 'Deal of the Year' award. We're proud to have supported ESS Tech on the sale of its innovative and robust battery storage technology to Sapele Power in Nigeria.
Present at the award ceremony in Washington D.C. were, from right to left: Clive Berelowitz (CEO of American Trade Finance); Robin Renee Sanders (former US Ambassador to Nigeria, on behalf of Sapele); Reta Jo Lewis (President and Chair of the Export-Import Bank of the United States (Exim)); and Hugh McDermott (Senior Vice President Business Development & Sales at ESS Inc.).